Fraud Management & Cybercrime , Governance & Risk Management , Insider Threat
A Preview of Fraud & Breach Prevention Summit in Mumbai
Security Thought Leaders Share Actionable Steps on Breach Preparedness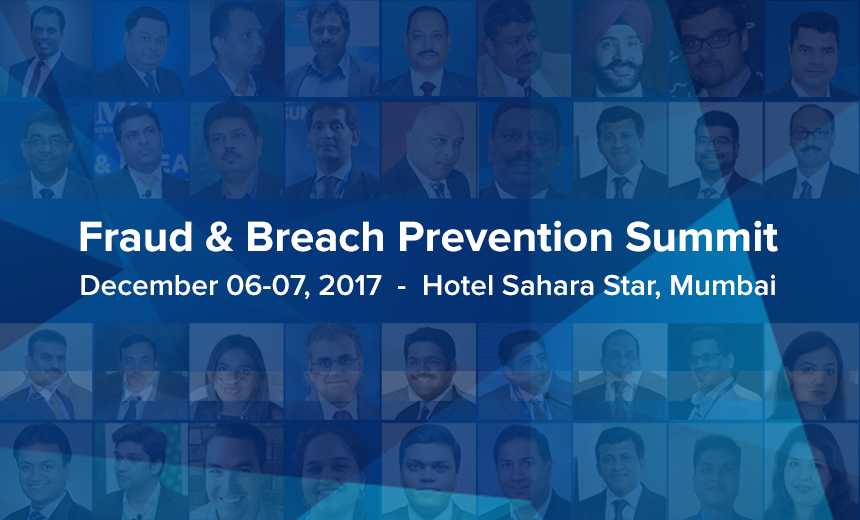 High-profile breaches in Asia and India have been grabbing headlines this year. These include ransomware attacks, such as WannaCry and Petya; malware attacks involving encrypting data and demanding ransom; the leaking of customer Aadhaar credentials by UIDAI; and website defacements.
See Also: Live Webinar | Navigating the Difficulties of Patching OT
As data breaches increase in scale and frequency, businesses must ensure an effective, swift and well-orchestrated response. Security practitioners must step up efforts to spur innovation and building effective cyber defenses.
"By attending the summit, you'll learn how to set new directions for protecting your entire ecosystem by understanding how attackers work. "
To help them, Information Security Media Group on Wednesday and Thursday will host a Fraud and Breach Prevention Summit in Mumbai at Hotel Sahara Star. The event follows successful summits in Bengaluru, Delhi and other cities around the world.
The objective of this event, which will feature presentations by 20 leading CISOs, is to share best cyber defense practices.
The two-day, dual-track summit is designed for senior professionals who work on information security, risk management, compliance, forensic, policy making, cyber law and law enforcement. It will feature top-notch briefing sessions on such topics as assessing how shortcomings in information security, contemporary technologies and processes in the ecosystem have resulted in mega-breaches.
The event will offer insights on planning for cybersecurity chaos, with organizations shifting their focus from dealing with cybersecurity as a technology problem to being a business problem.
By attending the summit, you'll learn how to set new directions for protecting your entire ecosystem by understanding how attackers work.
Best Practices
The summit will bring together thought leaders from the government and private sector, as well as technology providers, to discuss and debate the best ways to secure organizations' critical information against evolving threats while delving into the best risk frameworks. They'll impart lessons on leveraging next-generation security technologies and enhancing threat monitoring capabilities to respond to threats in real time.
Hot topics at the summit include:
Inadequacies in dealing with new attack patterns, counter measures;
Sizing up the data breach outlook from the current nation-state roots to the next massive attack;
Securing next-generation banking transactions platforms in a cashless infrastructure;
Assessing preparedness of law enforcement to respond to the challenge of cybercrime;
Mapping the risks from the dark web and responding to the challenge with proactive defenses;
Analyzing the legal and regulatory aspects of building an incidence response plan in a post-breach scenario;
Building an effective approach to threat hunting; and
Rewriting the rules of patch management as a breach response mechanism.
Dealing with Critical Issues
The summit will feature distinguished security leaders and subject matter experts sharing insights and challenging practitioners to take a systematic and pragmatic approach to secure their environments.
Some of issues the summit will delve into are:
Addressing the information security skills gap;
Preventing the next big ransomware attack;
Addressing human behavior as a parameter for security controls and building baseline defenses using AI;
Analyzing the implications of the Equifax and Uber breaches and key lessons to be learned;
Sizing up the new risks from the changing digital/cashless payments landscape and new authentications methods;
Building an enterprise immune system to defend against next-generation threats.
Hot Sessions
The summit will commence with a keynote address by Vishal Salvi, CISO of Infosys Ltd. He will size up the challenges posed by emerging attack patterns and assess the effectiveness of organizations in leveraging services and technologies to this challenge.
In a spotlight session, Prashant Mali, president and founder of Cyber Law Consulting, will offer insights into the legal considerations one must adhere to in building an incident response plan in a post breach scenario.
In a session on securing a cashless infrastructure, Dr. N. Rajendran, CTO of National Payments Corporation of India, will discuss "NPCI's Proactive Approach to Security Next-Generation UPI Cashless Infrastructure."
The largest scheduled bank of the country, State Bank of India, will present best practices on securing the digital/cashless payments landscape and new authentication challenges. Y. V. Ramana Murthy, SBI's general manager and group CISO, will discuss "Security Challenges in a Cashless Economy: A Practitioner's view."
Venkatesh Subramaniam, global CISO at Ocwen Financial Corp., will offer insights on why practitioners are in a state of chaos when it comes to operating a breach response unit.
Other featured sessions include:
"Understanding the Dark Web and Malware-as-a-Service," featuring Krishna Sastry Pendyala, of PWC;
"Is Detection a Myth? An Effective Approach to Threat Hunting," presented by Anuj Tewari of HCL Technologies;
"Growing Cybercrime: Assessing Preparedness of Law Enforcement," with Brijesh Singh, inspector general of police (cyber) and CISO of Maharashtra;
"A Practitioner's Approach to an Effective Patch Management Framework," featuring Japjit Sandhu of Bharti Airtel Ltd.
For more information, please visit the Mumbai summit event page. And if you're attending the summit, please provide me with feedback on the event as well as insights on topics and speakers you'd like to see at future events in 2018.