FRAC Could Save Your Life
In a crisis situation, it is essential to get the right people to the right location to provide the right level of expertise to quickly and appropriately address the situation.
While this seems very obvious, in the hours following the September 11 attack on Manhattan, or in New Orleans after Hurricane Katrina, the ability to know with a high level of assurance who's who was virtually impossible. The reason for this inability to know who the real first responders are is the lack of any form of verified identity credential. FRAC or First Responder Authentication Credential seeks to change this and provide a credential that will allow those on scene to identify a person's expertise, and quickly direct them to the most appropriate area.
With FRAC in place local authorities have the ability to harness the KSAs (knowledge, skills, and attributes) of this vast population and direct these resources to the area where they are most needed.
Within the U.S., verifying identity is a challenge. Identity is proven through sources such as a birth certificate. While these documents are issued by county government offices, they are easy to counterfeit, and there are currently over 20,000 different forms, making it impossible to identify a forgery. Even more sophisticated forms of identity, such as a state-issued drivers license or identification card, can be tampered with or counterfeited and do not provide any detail on the person's certifications, capabilities or lack thereof when responding to an emergency situation or on site at a medical facility.
In the post 9/11 world, the federal government has identified identity as a key issue for national security. Starting with Homeland Security Presidential Directive 12 (HSPD12), which mandates that all federal employees carry a verified identity credential, NIST evaluated and issued the Federal Information Process Standard 201 (FIPS201) defining the technology required to provide a strong verified identity credential. This resulted in the Personal Identity Verification (PIV) credential, a standard providing clear guidance in terms of interoperability and standardization of both identity credential and the ability to extract the appropriate information through a card reader.
With this type of standardization in place, guidance has been provided to federal, state and local governments looking to implement FRAC, identifying the PIV-I card as an example of a trusted and interoperable identity credential. Today, there are over 20 million people in the U.S. who could be classified as a first responder. This goes far beyond police, EMTs and firefighters and includes every physician, nurse, and specific military personnel. Understanding each person's knowledge, skills and attributes (KSAs) is essential in a crisis situation. With FRAC in place local authorities have the ability to harness the KSAs of this vast population and direct these resources to the area where they are most needed.
With the challenges faced in properly responding to the hurricane Katrina tragedy, the Federal Emergency Management Agency (FEMA) is now driving these standards though the F/ERO Repository supporting the National Preparedness Network. This is a significant step in the right direction, but this effort needs to continue moving forward until every first responder has a verified identity credential. The FRAC is not a concept. With FEMA's backing there are deployments underway in Colorado, Pennsylvania, Texas, Virginia, Washington, and Washington D.C.
FRAC is a significant tool to help quickly and efficiently address any crisis situation, but the smart card technology it is based upon can be leveraged to provide additional features for government and healthcare facilities. These identity credentials can be used for physical access to the facility and have the ability to run applications for special parking access or for food/merchandise purchases within a specific location. While this credential can introduce operational efficiencies and provide consistency across first responders, the real value of the credential is getting help to a crisis situation - fast. FRAC can save a life.
Check if your state is issuing FRAC: Contact your Governor's office, State-level Emergency Response Coordinator or Critical Infrastructure Protection Coordinator to inquire where your state stands in issuing FRAC.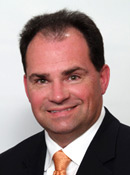 Michael Magrath, business development director for the security division of Gemalto North America, is responsible for the strategic marketing, business development and government affairs activities in the government and healthcare sectors. Mr. Magrath develops and drives consensus on legislation and policy within technology, information security, privacy, and additional security-related public policy issues. In addition to supporting Gemalto's business and policy initiatives, Mr. Magrath is committed to consumer education and advocacy through Gemalto's online resource www.JustAskGemalto.com, which provides answers to consumer questions about how to better enjoy the conveniences of the digital world. He serves as vice chairman of the Smart Card Alliance's Healthcare Council and represents Gemalto on TechAmerica's Health IT Committee, the Health Record Banking Alliance, The Secure ID Coalition and TechAmerica's Information Security Committee. Mr. Magrath is also a member of the Healthcare Information and Management Systems Society (HIMSS) and is a Certified Smart Card Industry Professional (CSCIP).