Edward Snowden Is No Daniel Ellsberg
Comparing NSA Surveillance Revelation, Pentagon Papers Leak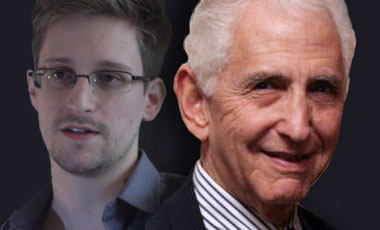 The debate the nation is having on how far the U.S. intelligence community should go to collect data on Americans' telephone and Internet communications is one that we must have. And we have Edward Snowden to thank for getting that conversation started.
See Also: LIVE Webinar | Stop, Drop (a Table) & Roll: An SQL Highlight Discussion
But many people, including President Obama, who say the debate is worth conducting also contend that the ends in this matter do not justify the means.
Ellsberg tried to get those in power to reveal the Pentagon Papers before leaking it; Snowden said he sought a job as a contractor at the NSA to disclose what he perceived as wrongdoing.
The means, of course, is the leaking of classified documents about National Security Agency top-secret mass surveillance programs to Britain's Guardian newspaper by Snowden, who the NSA identified as a former systems administrator with top-secret clearance.
Some compare what Snowden did in June with the actions of Daniel Ellsberg, a former military analyst, who in 1971 worked as a strategic analyst at the think tank Rand Corp. Ellsberg leaked to The New York Times and other American newspapers the Pentagon Papers, a top-secret history that documents how the administration of President Lyndon Johnson systematically lied to Congress and the nation about the U.S. involvement in Vietnam.
Service to Nation?
Ellsberg, in an interview with CNN, says Snowden performed an "incalculable" service to the nation with his leaks in an attempt to prevent the United States from becoming a surveillance state. In an op-ed column appearing in the Guardian, Ellsberg wrote: "In my estimation, there has not been in American history a more important leak than Edward Snowden's release of NSA material, and that definitely includes the Pentagon Papers 40 years ago."
That assessment of Snowden, however, isn't shared by Rahul Sagar, a Princeton University political theorist and author of the forthcoming book Secrets and Leaks: The Dilemma of State Secrecy. Sagar says Edward Snowden is no Daniel Ellsberg.
Sagar, with whom I spoke this past week, sees important differences between the two whistleblowers. Ellsberg tried to get those in power to reveal the Pentagon Papers before leaking it; Snowden said he sought a job as a contractor at the NSA to disclose what he perceived as wrongdoing.
In the early 1970s, Ellsberg first raised his concerns about government lying with high-level officials of the Nixon administration. When they turned him down, Ellsberg approached Senate Foreign Relations Committee Chairman J. William Fulbright, who told Ellsberg that he would only reveal the Pentagon Papers if he received executive branch approval. Fulbright didn't get the Nixon White House blessing, so Ellsberg approached The New York Times, which published the Pentagon Papers in the summer of 1971.
Impatience with the System
Sagar says Snowden was too impatient to let the process work. In fact, he says, Snowden didn't want to put up with the system.
That was evident when Snowden decided to leak the documents on NSA e-spying to a British newspaper rather than an American one, says Sagar, who points out Snowden initially approached the Washington Post. But the Post editors wanted to first check with the NSA to determine what damage such leaks could cause if they decided to publish. Also, Sagar says, the Post wanted to limit what information it would reveal from the documents.
"Snowden thought the Post was too sympathetic to the government to allow them to have access to the information, so he went with the Guardian," Sagar says. "And that's the problem. You should approach American institutions if you can. You want people who are going to be careful and thoughtful and considerate in their judgment. You don't want something like the Guardian, who may have somewhat less of a stake in the American system. It is more of an oppositional paper that has tended to be pretty skeptical of America and America's interest."
Acting on Citizens' Behalf
Sagar says a whistleblower, when breaking the law, acts on behalf of other Americans, citizens who elect the president and Congress that then select judges to vet the process. "You're telling the people, 'You might have voted for those guys, but I'm telling you what's good for you.' .... When you do that, it's very important you be right."
Another reason Sagar doesn't equate Snowden with Ellsberg is that Ellsberg didn't flee abroad to avoid a prosecution. Snowden is in Moscow seeking political asylum.
A 1971 UPI report quotes Ellsberg as saying: "I felt that as an American citizen, as a responsible citizen, I could no longer cooperate in concealing this information from the American public. I did this clearly at my own jeopardy and I am prepared to answer to all the consequences of this decision."
Ellsberg was put on trial in 1973, but because the Nixon administration burglarized his psychiatrist's office to gather unfavorable information on him, and the FBI conducted an illegal wiretap of his telephone, a judge declared a mistrial.
Sagar says Snowden should face a jury of his peers if he believes he's acting on behalf of Americans. "If they agree with you," he says, "they'll acquit you."
Snowden and many of his supporters say his decision to flee America and seek political asylum is based, in part, on the way the military has treated Army Pfc. Bradley Manning, who leaked a quarter-million classified diplomatic documents to WikiLeaks. Manning had been placed in solitary confinement, and, according to published accounts, is forced to remove his clothes every night and required each morning to stand outside his cell, naked, until he passes inspection and is given his clothes back.
Sagar says he understands the government's behavior toward Manning because it's rare to track down and prosecute whistleblowers. He says the government likely believes that tough treatment could deter others from leaking. But this approach could prove self-defeating. "You're telling leakers to forget what the judge or jury finally decides; even before we get to that point, we're going to make you feel the consequences of what you've done," he says. "That kind of behavior can be counterproductive."
What's your take on the Snowden-Ellsberg comparison?