Standards, Regulations & Compliance
Bills Target International Cyber Criminals
A Call for Global Cooperation to Combat Online Crime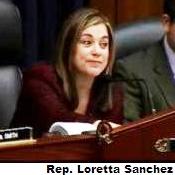 A group of lawmakers from both parties introduced this week companion bills - one in the Senate, the other in the House of Representatives - aimed at combating international cybercrime. Both bills, S. 3155 and H.R. 4692, are known as the International Cybercrime Reporting and Cooperation Act.

Rep. Yvette Clarke, the New York Democrat who is the bill's chief House sponsor, said the legislation would require the president to provide a global assessment of identity threats from abroad and work with other countries to crack down on their own cyber criminals. The bills provide for financial sanctions to be imposed on countries that do not cooperate.

Another sponsor, Rep. Loretta Sanchez, D.-Calif., said a global effort, one that requires the intelligence and cooperation of the international community, is needed to battle cybercrime. "We can take steps to strengthen our own cyber networks, but without consulting our allies, the security of the entire system is at risk," Sanchez, chair of the House Homeland Security Committee, said Friday in a statement announcing the introduction of the House bill.

Sen. Orrin Hatch, R.-Utah, one of the Senate bill's chief sponsors, said cybercrime poses a serious threat to the security of the global economy. "Until countries begin to take the necessary steps to fight criminals within their borders, cybercrime havens will continue to flourish," Hatch said in a statement. "We don't have the luxury to sit back and do nothing."

According to Clarke, both bills include five key provisions:
Annual Presidential Report: Require the president to annually report to Congress on the assessment of the state of countries' use of information and communications technologies in critical infrastructure, the extent and nature of cybercrime based in each country, the adequacy and effectiveness of each country's legal and law enforcement systems addressing cybercrime and countries' protection of consumers and commerce online. The president would also report on multilateral efforts to prevent and investigate cybercrime, including U.S. actions to promote such multilateral efforts.

Deliver Foreign Assistance to Prevent Cybercrime Havens: Develop programs designed to combat cybercrime abroad, with special emphasis on countries that don't have significant Internet penetration; such countries could become havens for cyber criminals.

Identify Countries of Cyber Concern: Require the president to identify countries of cyber concern, where there is significant, credible evidence that a pattern of cybercrime against the U.S. government, businesses or individuals by people from within foreign countries and identify those countries that fail to sufficiently address cybercrime through investigations, prosecutions, bilateral or international cooperation or appropriate legislation or similar measures.

Failure to Meet Action Plan Benchmarks: Suspected countries that do not reach their benchmarks may have one of the following benefits suspended, restricted or prohibited: new Overseas Private Investment Corporation or Export-Import Bank financing, new multilateral financing, new Trade and Development Agency assistance, preferential trade program, or new foreign assistance as long as such do not limit projects to combat cybercrime.

Department of State International Cybercrime Policy Focus: Require the Secretary of State to designate a senior official to coordinate and focus on activities, policies and opportunities to combat cybercrime internationally, and in consultation with other federal agencies and the relevant chiefs of mission, appoint employees at key embassies to focus on cybercrime policy.
The Senate bill was assigned to the Foreign Relations Committee; the House measure was assigned to the Foreign Affairs, Ways and Means and Financial Services.