Cyberwarfare / Nation-State Attacks , Fraud Management & Cybercrime , Governance & Risk Management
Biden Reveals Picks to Head DHS, Intelligence
President-Elect Taps Former Obama Administration Officials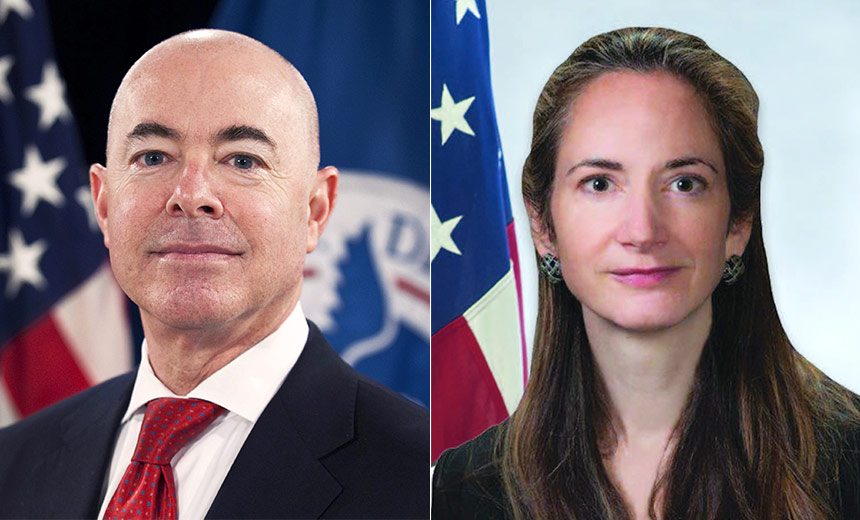 President-elect Joe Biden on Monday announced that two former Obama-era officials are his nominees to head the U.S. Department of Homeland Security and the Office of Director of National Intelligence.
See Also: Live Webinar | Breaking Down Security Challenges so Your Day Doesn't Start at 3pm
Biden plans to nominate Alejandro Mayorkas as his secretary of homeland security and Avril Haines as director of national intelligence.
The president-elect also announced he is nominating his longtime adviser, Antony Blinken, for secretary of state and former Secretary of State John Kerry for special presidential envoy for climate. Jake Sullivan is his nominee for national security adviser and Linda Thomas-Greenfield is his pick for U.S. ambassador to the United Nations. In addition, former Federal Reserve Chairman Janet Yellen will be his pick for secretary of the Treasury, according to news reports.
Homeland Security
Mayorkas, Biden's nominee to head the Department of Homeland Security, is a former assistant U.S. attorney and a former deputy secretary with DHS who worked for the department from 2013 and 2016. A Cuban immigrant, Mayorkas would be the first Latino to head the agency if he's approved by the Senate.
When I was very young, the United States provided my family and me a place of refuge. Now, I have been nominated to be the DHS Secretary and oversee the protection of all Americans and those who flee persecution in search of a better life for themselves and their loved ones.

— Alejandro Mayorkas (@AliMayorkas) November 23, 2020
Mayorkas is expected to focus most of his efforts on immigration issues, according to The New York Times But he will also have a major role in setting America's cybersecurity policy. That's because the U.S. Cybersecurity and Infrastructure Security Agency is a unit of DHS.
During his previous tenure with the Department of Homeland Security, Mayorkas helped oversee some aspects of cybersecurity policies within the department, including information sharing with other government agencies and greater data privacy protection. He negotiated cybersecurity agreements with both Israel and China, according to his department biography.
Retired Air Force Brigadier Gen. Gregory Touhill, who served as CISO of the United States under President Obama and is currently CEO of Appgate Federal, previously worked with Mayorkas and noted that he supported many of the cybersecurity initiatives Touhill and his team worked on during the Obama era.
"He [Mayorkas] was a proponent of our activities to improve the nation's cybersecurity posture and very supportive of my team," Touhill tells ISMG. "While he realizes that cybersecurity is not his area of expertise, he is a gifted leader who is able to gather the team of those with the right cyber experience and knowledge to help him make informed decisions."
Mayorkas will take over a Homeland Security agency that has seen its cyber policies disrupted over the last two weeks. On Nov. 17, Trump fired CISA Director Christopher Krebs. Under his leadership, CISA called the 2020 election the safest in history (see: Analysis: Does Krebs' Firing Leave US Vulnerable to Attack?).
National Intelligence
Haines, who would be the first woman to serve as director of national intelligence, now serves on Biden's transition team, handling foreign policy and national security issues.
She was assistant to the president and principal deputy national security adviser to Obama from 2015 to 2017. Previously, she served as deputy director of the Central Intelligence Agency from 2013 to 2015 and as legal adviser to the National Security Council from 2007 to 2008.
Since her time in the Obama administration, she has been a senior research scholar at Columbia University, deputy director of Columbia World Projects, a nonresident senior fellow at the Brookings Institution and a senior fellow at the Johns Hopkins University Applied Physics Laboratory.
Haines discussed her views on cybersecurity while giving the keynote address to the Student Symposium in Cybersecurity at Tufts University in March.
"The United States faces what is fundamentally an asymmetric threat in cyberspace and we're struggling to address it in order to protect the value that the cyber domain represents in our society," Haines said. "Despite having the most powerful military in the world, less powerful actors can attack us at a relatively low cost and do so without triggering a conventional response or escalation, which would otherwise serve as a deterrent to subjects."
Haines said the U.S. needs better coordination between the private and public sectors on cybersecurity. The nation also needs to promote the use of basic cybersecurity practices by individuals, private companies and public authorities, she added.
"And I believe we need to develop international frameworks that promote norms, institutional structures and processes as part of a broader strategy for deterrence," she told the audience at Tufts.
Haines' position on Biden's appointment list could spark controversy, with some commentators arguing that her being a former consultant for the controversial data-mining firm Palantir should be a serious strike against her, The Intercept reported. Others note that, while at the CIA, she approved an "accountability board" that, according to The Daily Beast, spared CIA personnel reprisal for their having spied on investigators who compiled the Senate Select Committee on Intelligence's 2014 "Report on Torture," which analyzed the CIA's detention and interrogation practices. She was also part of the team that helped to redact the version of the report that was publicly released.
The Office of the Director of National Intelligence was heavily involved in cybersecurity issues leading up to the November election, including the announcement that the Iranian-linked hackers were attempting to interfere by sending threatening emails to Democratic voters in October (see: US Alleges Iran Sent Threatening Emails to Democrats).