91 Charged With Medicare Fraud
$295 Million Worth of False Billing Alleged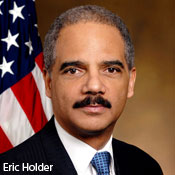 Federal authorities announced Sept. 7 that 91 individuals in eight cities have been charged with participation in Medicare fraud schemes involving about $295 million in false billing.

The charges are based on a variety of alleged fraud schemes involving various medical treatments and services, including home healthcare, physical and occupational therapy, mental health services, psychotherapy and durable medical equipment. The defendants are accused of such crimes as conspiracy to defraud the Medicare program, healthcare fraud, violations of the anti-kickback statutes and money laundering.

The arrests are a result of investigations by the Medicare Fraud Strike Force, formed by the Department of Justice and the Department of Health and Human Services, according to Attorney General Eric Holder. The strike force is part of the Health Care Fraud Prevention & Enforcement Action Team.
Fraud Schemes
The defendants allegedly participated in schemes to submit claims to Medicare for treatments that were medically unnecessary and, often, never provided, according to court documents. In many cases, indictments and complaints allege that patient recruiters, Medicare beneficiaries and other co-conspirators were paid cash kickbacks in return for supplying beneficiary information to providers so that the providers could submit fraudulent billing to Medicare for services that were medically unnecessary or never provided. Those charged include physicians, nurses, medical professionals, healthcare company owners and others.

In the past week, about 400 law enforcement agents from the FBI, HHS Office of the Inspector General, Medicaid fraud control units and state and local agencies participated in what Holder portrayed as a "nationwide takedown."

In Miami alone, 45 defendants were charged with various fraud schemes involving a total of $159 million in false billings for a variety of services. For example, 24 defendants were charged with participating in a $50 million community mental health center fraud scheme. Those charged allegedly paid patient recruiters to refer ineligible beneficiaries to the mental health center. Some beneficiaries were residents of halfway houses who were allegedly threatened with eviction if they did not agree to cooperate, according to court documents.