50-Year Sentence for Medicare Fraud
Scheme Billed for Bogus Mental Health Treatment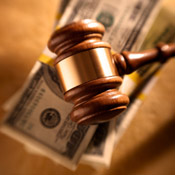 A co-owner of a mental healthcare company has been sentenced to 50 years in prison in a $205 million Medicare fraud scheme involving bogus therapy sessions for the elderly in the Miami area.

Lawrence Duran, co-owner of the now defunct American Therapeutic Corp., also was ordered to pay more than $87 million in restitution along with co-defendants in the case. Another co-owner of the firm, Mariannella Valera, was sentenced to 35 years in prison, while a third co-defendant, Margarita Acevedo, was sentenced to 91 months in prison. All three pleaded guilty in the case.

A fourth defendant, Judith Negron, also a co-owner of the firm, was found guilty on 24 felony counts in a trial last month and awaits sentencing.

Duran's sentence is the longest ever imposed in a Medicare Fraud Strike Force case, federal prosecutors said.

In April, Duran pleaded guilty to 38 felonies and Valera to 21 felonies. Those included conspiracy charges, healthcare fraud and money laundering, among others.

In pleading guilty, the pair admitted that they orchestrated a scheme to defraud Medicare from 2002 through 2010 by submitting false and fraudulent claims for partial hospitalization programs through American Therapeutic Corp. They also used other shell companies, including American Sleep Institute, to submit fraudulent claims.

Duran, Valera and others paid bribes kickbacks to assisted living facilities, halfway houses and patient brokers in exchange for delivering ineligible patients for bogus partial hospitalization programs offering treatment for severe mental illness, authorities said. Duran and Valera supported the kickbacks through an extensive money laundering scheme that aimed to conceal the illicit conversion of Medicare payments to cash.

"For years, Mr. Duran stole millions of taxpayer dollars by defrauding Medicare and preying upon vulnerable citizens suffering from Alzheimer's disease, dementia and substance abuse," said Assistant Attorney General Lanny Breuer. "Instead of providing patients with the treatment they needed, Mr. Duran and his co-conspirators used them as props to fill their fraudulent mental health centers. As a further insult, Mr. Duran created an organization to lobby Congress for additional funds to support the mental health services his fraud scheme purported to provide."