$200 Million Medicare Fraud Scheme Alleged
Fraud Case Involves Bogus Therapy Sessions for Elderly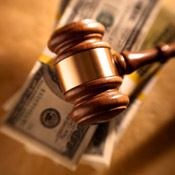 Federal authorities have announced an indictment alleging $200 million in Medicare fraud stemming from bogus mental health therapy sessions for the elderly in the Miami area.

The 13-count indictment charges four owners or senior managers of two companies, American Therapeutic Corp., or ATC, and Medlink Professional Management Group, that were used to perpetrate the Medicare fraud scheme, Department of Justice officials said. The two corporate entities also were indicted for fraud.

The defendants in the case "preyed on some of the most vulnerable patients, paying kickbacks to owners and operators of assisted living facilities and halfway houses in exchange for patient referrals to ATC," said Lanny Breuer, assistant U.S. attorney general. "At ATC locations, bogus mental health therapy sessions were organized, where elderly and infirm patients were left in rooms for hours, with no legitimate or medically necessary therapy being performed. Some of the patients suffered from Alzheimer's disease or dementia and were not even cognizant of where they were."

The indictment alleges the defendants fraudulently billed Medicare, falsely claiming the patients were part of a legitimate partial hospitalization program and receiving intensive mental health treatment.

Several of the defendants also were charged with holding so-called "charting parties," where senior managers of ATC met routinely to falsify patient medical charts to make it look like patients were receiving legitimate treatment, Breuer said.
Other Medicare Fraud Cases
In another Medicare fraud indictment announced in July, federal authorities charged 94 people, including many in Miami, for alleged participation in schemes to submit more than $251 million in false claims. The charges were based on a variety of fraud schemes, including physical therapy and occupational therapy, home health care, IV infusion fraud and durable medical equipment, federal authorities said.

And just last week, federal authorities charged 44 alleged members and associates of an Armenian-American organized crime enterprise in connection with two health insurance fraud schemes. In addition to a $100 million scheme to defraud Medicare, members of the crime ring also were charged in connection with a separate scheme to defraud private health insurers in the New York area, authorities said.