Aneesh Chopra Resigns as Federal CTO
Report: Mulls Run for Virginia's Lieutenant Governor in 2013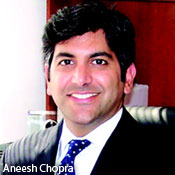 The nation's first chief technology officer, Aneesh Chopra, will leave his job in the White House Office of Science and Technology Policy on Feb. 8.
President Obama said Friday that Chopra performed groundbreaking work to bring the federal government into the 21st century. "Aneesh found countless ways to engage the American people using technology, from electronic health records for veterans, to expanding access to broadband for rural communities, to modernizing government records," Obama said in a statement. "His legacy of leadership and innovation will benefit Americans for years to come, and I thank him for his outstanding service."
See Also: Identity, Security and Risk Requirements for a New IAM Architecture
Related Content
Though Chopra's primary focus was to identify ways to exploit information technology to make the government run more efficiently, he collaborated with others in the administration to make sure technology the government employed was secure.
Collaboration with Cybersecurity Coordinator
Chopra collaborated closely with White House Cybersecurity Coordinator Howard Schmidt in developing the Obama administration's cybersecurity research and development strategy issued last month (see White House Unveils Cybersecurity R&D Plan). In a jointly written White House blog, Chopra and Schmidt wrote that it's imperative that the government fundamentally alter the dynamics in cybersecurity through the development of novel solutions and technologies, given the magnitude and pervasiveness of cyberspace threats to the nation's economy and security.
That collaboration began when Schmidt became cybersecurity coordinator in January 2010. In December of that year, both men helped draft an administration memorandum of understanding to speed up the commercialization of cybersecurity research innovations that support the nation's critical infrastructures (see Feds, Financial Sector in R&D Initiative). In a blog, the two White House officials explained how America's competitiveness depends on secure IT systems, including online services offered by the financial services industry.
Political Career in the Offing?
The White House didn't say what Chopra would do next. The Washington Post reports that Chopra is mulling a run for lieutenant governor of Virginia as a Democrat in 2013.
"Aneesh immediately becomes a front-runner for lieutenant governor given his boundless energy and years spent building relationships across Virginia," one longtime Democratic activist in Virginia familiar with Chopra's thinking but who was not authorized to speak publicly told the Post. "He has been wanting to run for office, and by leaving the White House now, he will be able to focus on helping the president and (U.S. Senate candidate and former Gov. Timothy) Kaine this year and building toward a run in 2013."
Chopra had been serving as Virginia's technology secretary under Kaine when Obama tapped him to be federal CTO in April 2009 (see Obama IT Team Coming Into Shape). Chopra led Virginia's strategy to leverage technology in government reform, to promote its innovation agenda and to foster technology-related economic development. He previously worked as managing director with the Advisory Board Co., a healthcare consultancy, where he led the firm's Financial Leadership Council and Working Council for Health Plan Executives.
Dizzying Array of Accomplishments
Latest Tweets and Mentions